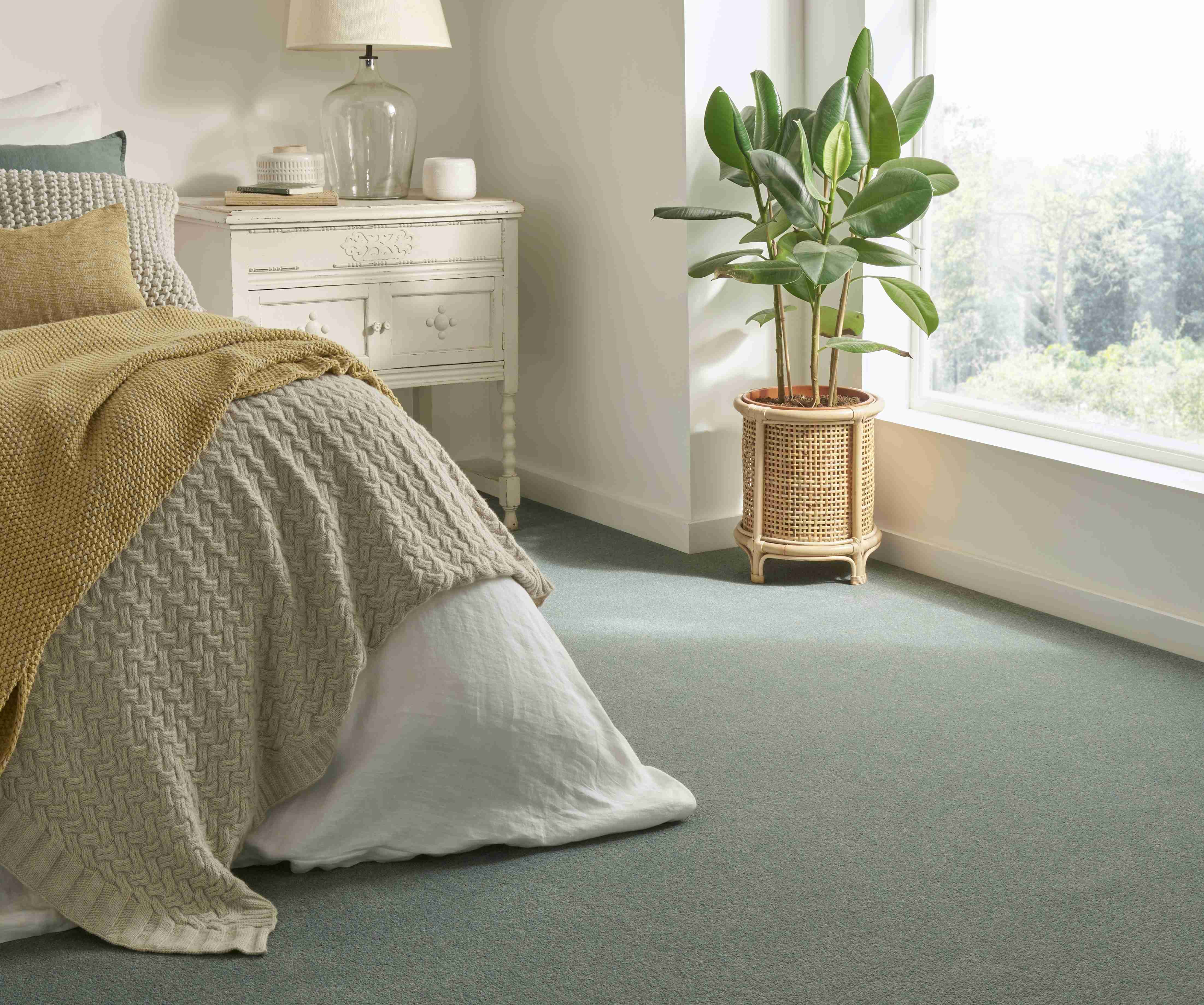 It is estimated that the average person spends about one third of their life either asleep or attempting to get to sleep. If most of that sleeping and attempted sleeping is done in your bedroom, then we can begin to see the importance of getting the décor right in that room. Not only do we spend a lot of time in it, but the aesthetic choices made there can impact whether those hours of slumber are easily achieved, or if drifting off into dreamland becomes a bit of a challenge. Those aesthetic choices can also impact the way you start your day. This is why bedroom carpets are such a big decision.
Finding the right bedroom carpet idea
The floor space is one of the largest surface areas in your bedroom and it can serve several purposes. Firstly, it is among the first things your feet touch when you start your day. Secondly, it can have a notable visual impact. Those initial sensory experiences can play a significant role in how you feel, right from the word 'go'. Thirdly, the flooring in your bedroom can contribute to the management of both temperature and noise. As an insulating layer, flooring can either help to optimise the flow of air, heat, and sound, or hinder it.
All these elements mean that the bedroom carpet ideas you choose can affect sleep, mood, personal energy, and household bills, in addition to having a relationship with the overall design scheme - so making the right choice is essential. If you think of your bedroom as your haven – the place from which you spring, refreshed in the morning, and into which you relax at night – then it becomes clear that cosiness is key to sifting through great bedroom carpet ideas, and finding the ideal solution for your space.
Cosy flooring styles to work with your senses
The relationship between bedroom décor and the way we feel all comes down to the way our senses respond when we are immersed in the space. When we explore flooring in this sensory context, we can see that focus is largely on colour, texture and, to a lesser extent, depth. With this approach, there are many great bedroom carpet ideas that lend themselves to cosy flooring styles.
Consider your colours
In interior design, colour choices depend on a number of factors. These can include the way colours combine to create overall aesthetics, and also the subtle influence that colours can have on mood and emotions. It's important to think about the kind of space you wish to create when considering bedroom carpet ideas, and how you want to feel when you are in that room.
Using neutral tones

– A sense of comfort and cosiness can be created with neutral tones, including shades of grey. By keeping colours and shades neutral and muted across large surfaces such as carpeting, an elegant, soothing aesthetic is achieved, which can help with relaxation and restfulness. This overall look can be enhanced with the addition of deeper accents or bolder colours in smaller items, such as cushions or lampshades.
Pick a pattern

– Incorporating patterned carpet into your bedroom design can add to the sense of cosiness in the space. Stripes can be particularly effective in smaller rooms, making the area feel larger than it is – especially when the flooring is a paler colour overall. Similarly, herringbone patterns can work well in bedroom carpets, helping to withstand the wear and tear of footfall through the space.
Go for bold – A deeper, bolder colour in a bedroom carpet can greatly enhance the cosiness of the room and is a popular modern trend. The use of richer tones can create a real sense of warmth and sumptuousness, and they can work well for relaxation when teamed with complementary accents elsewhere in the room.
Textures to try
A textured floor not only adds interest to a room, but also increases the cosy feeling generated within the space. This can be especially important when using neutral tones, such as on-trend grey carpet. The type of texture created can depend on the type of fibres used.
Wool is always a winner

– Wool carpeting provides a high level of durability, insulation, and comfort and is often considered the gold standard for bedrooms in particular. Though it is hardwearing, it is also soft to the touch, which helps create a feeling of luxury underfoot. Wool has excellent thermal properties and can help to regulate temperature in a space – contributing to overall protection that keeps the room warm in winter and cool in summer. Moreover, it is also effective in reducing noise, which is particularly important for upper floor rooms.

Add some raw natural fibres

– While wool is a natural fibre, the use of other, raw natural fibres in carpeting is growing in popularity within bedroom design. Raw fibres, including jute, seagrass and sisal, add a different kind of texture to the space and these carpets can lend themselves to a rustic, cosy aesthetic. The fact that some raw fibres – especially jute - are less hardwearing than others is one of the reasons this type of carpet is gaining popularity for bedroom design, since bedrooms often face lower foot traffic than other areas of the home.
Dig into depth
Different types of flooring create different depths which, in turn, impact the feeling of the entire room. Wood floors are very popular, for example, but the flatness and hardness of this type of flooring can create a feeling of starkness in a bedroom that may be at odds with the goal of a cosy aesthetic.
Find a rug

– A cosy rug, with perhaps a wool fibre pile, can deliver a great compromise for bedrooms with wood flooring. The choice of colour and pattern can also be used to complement other colour accents in the space. Rugs can even be layered onto carpet for an exceptional sense of luxury and warmth.
Try deep-pile carpet

– The depth of your carpet pile can make all the difference to a cosy bedroom. A deeper pile in a wool carpet can increase the efficacy of the insulating effect of the flooring, keeping you snug with temperature and noise fully regulated. With a highly luxurious feeling underfoot, too, deep-pile bedroom carpet is a sure way to soothe your senses.
For more great bedroom carpet ideas, call Flooring Superstore on 03308 182 500.