Find Your Local Flooring Superstore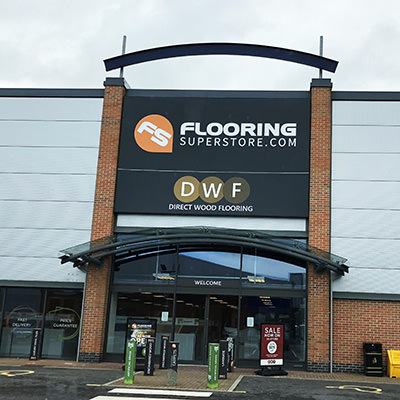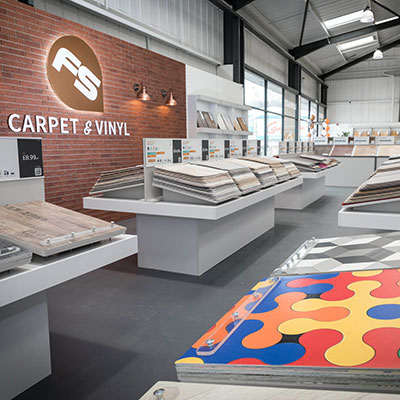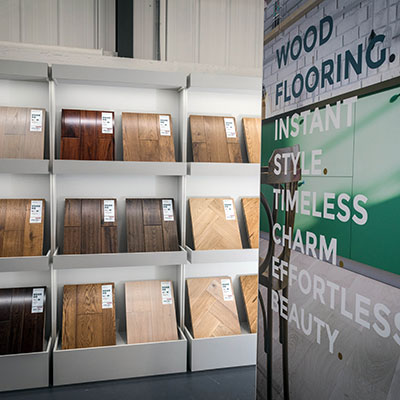 Find your local store
Find store by postcode, street, town or city
OUR STORES
ABOUT
With stores spanning the UK and with great ambitions for expansion, we want to ensure that all of our customers have the opportunity to get a closer look at our products before deciding on their favourite.
Each and every one of our stores contains a tailored selection of our most esteemed and top selling products - all on live, interactive display waiting to be discovered.
WHY YOU SHOULD VISIT
Visiting a Flooring Superstore store gives you the ability to both see and feel our products on a much larger scale than made possible by our Free Sample service - with an experience designed for those wanting to go the extra mile to find their perfect flooring.
BIRTLEY
miles
ADDRESS
Unit 3
Portobello Trade Park
Birtley
DH3 2RY
CONTACT
OPENING HOURS
| | |
| --- | --- |
| Monday | 08:00 - 17:00 |
| Tuesday | 08:00 - 17:00 |
| Wednesday | 08:00 - 17:00 |
| Thursday | 08:00 - 19:00 |
| Friday | 08:00 - 17:00 |
| Saturday | 09:00 - 17:00 |
| Sunday | 10:00 - 16:00 |
Click to View Store
COVENTRY
miles
ADDRESS
Unit 8
Pilot Trade Centre
Toll Bar End
Coventry
CV3 4RP
CONTACT
OPENING HOURS
| | |
| --- | --- |
| Monday | 08:00 - 17:00 |
| Tuesday | 08:00 - 17:00 |
| Wednesday | 08:00 - 17:00 |
| Thursday | 08:00 - 19:00 |
| Friday | 08:00 - 17:00 |
| Saturday | 08:00 - 18:00 |
| Sunday | 10:00 - 16:00 |
Click to View Store
BRACKNELL
miles
ADDRESS
Unit 3
Trade City Bracknell
251 Western Road
Bracknell
RG12 1FJ
CONTACT
OPENING HOURS
| | |
| --- | --- |
| Monday | 08:00 - 17:00 |
| Tuesday | 08:00 - 17:00 |
| Wednesday | 08:00 - 17:00 |
| Thursday | 08:00 - 19:00 |
| Friday | 08:00 - 17:00 |
| Saturday | 08:00 - 18:00 |
| Sunday | 10:00 - 16:00 |
Click to View Store
THURROCK
miles
ADDRESS
Unit 9
Trade City Thurrock
Motherwell Way
Thurrock
RM20 3LB
CONTACT
OPENING HOURS
| | |
| --- | --- |
| Monday | 08:00 - 17:00 |
| Tuesday | 08:00 - 17:00 |
| Wednesday | 08:00 - 17:00 |
| Thursday | 08:00 - 19:00 |
| Friday | 08:00 - 17:00 |
| Saturday | 08:00 - 18:00 |
| Sunday | 10:00 - 16:00 |
Click to View Store
YORK
miles
ADDRESS
Julia Avenue
Monks Cross
York
YO32 9JR
CONTACT
OPENING HOURS
| | |
| --- | --- |
| Monday | 09:00 - 18:00 |
| Tuesday | 09:00 - 18:00 |
| Wednesday | 09:00 - 18:00 |
| Thursday | 09:00 - 18:00 |
| Friday | 09:00 - 18:00 |
| Saturday | 09:00 - 18:00 |
| Sunday | 10:00 - 17:00 |
| Sunday | 10 - 11am viewing only |
Click to View Store
HAVANT
miles
ADDRESS
Unit 12C
Solent Road
Solent Retail Park
Havant
PO9 1JT
CONTACT
OPENING HOURS
| | |
| --- | --- |
| Monday | 08:00 - 17:00 |
| Tuesday | 08:00 - 17:00 |
| Wednesday | 08:00 - 17:00 |
| Thursday | 08:00 - 19:00 |
| Friday | 08:00 - 17:00 |
| Saturday | 09:00 - 17:00 |
| Sunday | 10:00 - 17:00 |
| Sunday | 10 - 11am viewing only |
Click to View Store
NEWPORT
miles
ADDRESS
Unit 5B
28East Retail Park
Newport
NP20 2NN
CONTACT
OPENING HOURS
| | |
| --- | --- |
| Monday | 09:00 - 18:00 |
| Tuesday | 09:00 - 18:00 |
| Wednesday | 09:00 - 18:00 |
| Thursday | 09:00 - 20:00 |
| Friday | 09:00 - 18:00 |
| Saturday | 09:00 - 18:00 |
| Sunday | 10:00 - 17:00 |
| Sunday | 10 - 11am viewing only |
Click to View Store
SWINDON
miles
ADDRESS
Unit F3
Bridgemead Retail Park
Swindon
SN5 7YF
CONTACT
OPENING HOURS
| | |
| --- | --- |
| Monday | 09:00 - 18:00 |
| Tuesday | 09:00 - 18:00 |
| Wednesday | 09:00 - 18:00 |
| Thursday | 09:00 - 20:00 |
| Friday | 09:00 - 18:00 |
| Saturday | 09:00 - 18:00 |
| Sunday | 10:00 - 17:00 |
| Sunday | 10 - 11am viewing only |
Click to View Store
EDINBURGH
miles
ADDRESS
Unit 2B
Seafield Road Retail Park
Edinburgh
EH6 7LH
CONTACT
OPENING HOURS
| | |
| --- | --- |
| Monday | 09:00 - 18:00 |
| Tuesday | 09:00 - 18:00 |
| Wednesday | 09:00 - 18:00 |
| Thursday | 09:00 - 20:00 |
| Friday | 09:00 - 18:00 |
| Saturday | 09:00 - 18:00 |
| Sunday | 10:00 - 17:00 |
| Sunday | 10 - 11am viewing only |
Click to View Store
KEIGHLEY
miles
ADDRESS
Unit 7
Alston Retail Park
Keighley
BD21 4AG
CONTACT
OPENING HOURS
| | |
| --- | --- |
| Monday | 09:00 - 18:00 |
| Tuesday | 09:00 - 18:00 |
| Wednesday | 09:00 - 18:00 |
| Thursday | 09:00 - 20:00 |
| Friday | 09:00 - 18:00 |
| Saturday | 09:00 - 18:00 |
| Sunday | 10:00 - 17:00 |
| Sunday | 10 - 11am viewing only |
Click to View Store
ERDINGTON
miles
ADDRESS
Ravenside Retail Park
Erdington
B24 9QB
CONTACT
OPENING HOURS
| | |
| --- | --- |
| Monday | 09:00 - 20:00 |
| Tuesday | 09:00 - 20:00 |
| Wednesday | 09:00 - 18:00 |
| Thursday | 09:00 - 20:00 |
| Friday | 09:00 - 18:00 |
| Saturday | 09:00 - 18:00 |
| Sunday | 10:30 - 16:30 |
Click to View Store
MILTON KEYNES
miles
ADDRESS
Grampian Gate Retail Park
Milton Keynes
MK6 1BH
CONTACT
OPENING HOURS
| | |
| --- | --- |
| Monday | 09:00 - 20:00 |
| Tuesday | 09:00 - 20:00 |
| Wednesday | 09:00 - 18:00 |
| Thursday | 09:00 - 20:00 |
| Friday | 09:00 - 18:00 |
| Saturday | 09:00 - 18:00 |
| Sunday | 10:30 - 16:30 |
Click to View Store
BRISTOL
miles
ADDRESS
Imperial Retail Park
Bristol
BS13 7TJ
CONTACT
OPENING HOURS
| | |
| --- | --- |
| Monday | 09:00 - 20:00 |
| Tuesday | 09:00 - 20:00 |
| Wednesday | 09:00 - 18:00 |
| Thursday | 09:00 - 20:00 |
| Friday | 09:00 - 18:00 |
| Saturday | 09:00 - 18:00 |
| Sunday | 10:30 - 16:30 |
Click to View Store
NEWTON ABBOT
miles
ADDRESS
Kingsteignton Trading Estate
Pottery Road
Newton Abbot
TQ12 3BN
CONTACT
OPENING HOURS
| | |
| --- | --- |
| Monday | 08:00 - 18:00 |
| Tuesday | 08:00 - 18:00 |
| Wednesday | 08:00 - 18:00 |
| Thursday | 08:00 - 19:00 |
| Friday | 08:00 - 18:00 |
| Saturday | 09:00 - 18:00 |
| Sunday | 10:00 - 16:00 |
Click to View Store