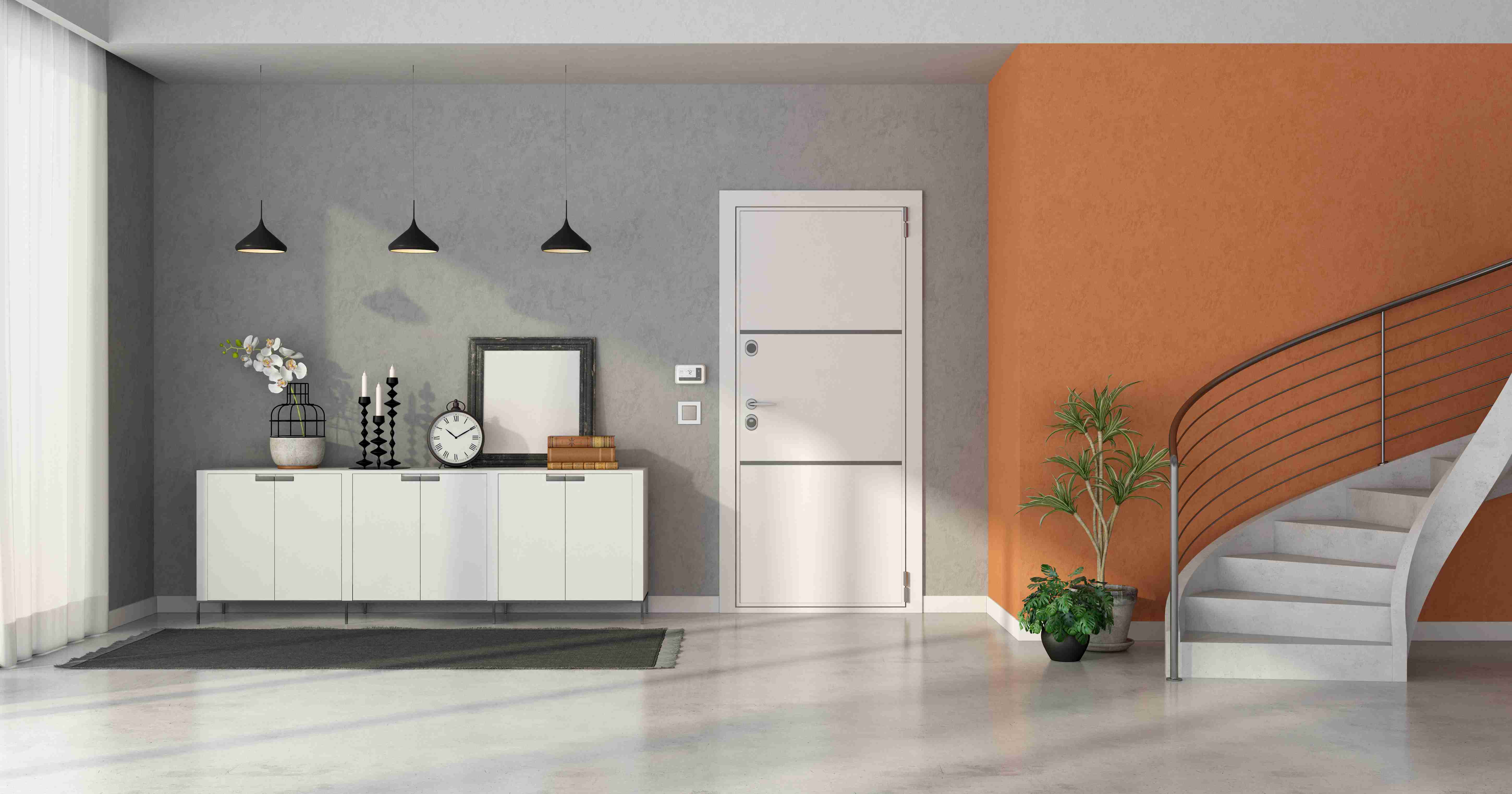 If you're looking for inspiration for a new interior design project, then here at Flooring Superstore we have everything you need to choose the right flooring for you and help you create the home of your dreams.
Hallways, stairs, and your landing are often neglected areas of the home, yet with high traffic, they should be one of the first things you consider when choosing a floor type and design. So, what works best?
Hallway
The hall is often the first thing you see when you enter a home, therefore it is important that not only does it look beautiful and represent the rest of your home design, but it also needs to have the functionality to cope with high foot traffic and people coming in from outdoors, which in the UK, means a lot of moisture and dirt in the colder months! So, what would we recommend that works for both creativity, design, and practicality?
Engineered Wood:

Thanks to the wood veneer, you can buy engineered wood flooring with the same look and feel that you get from traditional solid wood planks. This includes different finishes such as brushed, oiled, and lacquered, which means with engineered wood, you do not have to compromise on style or taste. It is also available in a wide range of designs and colours which can suit all decorations, as well as patterns such as herringbone and chevron.
It is also designed to have a higher moisture tolerance level than solid wood, so it makes it an excellent choice for wet footwear, as well as being easy to clean!
Solid Wood:

Traditional solid wood planks are a timeless classic and offer an elegance that other flooring types may not give you. Both beautiful and durable, it can be a good choice for hallways, in both design and function. Just bear in mind the cost of repair should it become damaged from high use.
Laminate flooring

: Laminate flooring comes in a variety of different colours, thicknesses, and grades, allowing you to find the perfect finish to fit your style.
As well as the variety of designs on offer, one of the big advantages to laminate flooring is the cost. Slightly cheaper per square metre on average than good quality carpet, it can be ideal for those on a budget, especially in areas of the home that you won't spend a lot of time in, such as hallways.
It's also easy to clean! Sweeping and hoovering up dirt is a straightforward process, and you can damp mop the floor to get it as good as new. Ideal for when you need to clean up any muddy footprints or pawprints. It's also scratch resistant, another benefit if you have children or pets.
Stairs
Stairs are often a neglected part of the home when it comes to interior design. Primarily a function and not a feature, you should feel inspired to create a fabulous staircase worthy of your home and with some excellent flooring styles now readily available, your stairs should be a high priority for making your home complete.
Carpet:

Although susceptible to wear, carpets are still a long-lasting worthwhile investment for both style and comfort when it comes to stairs. Thanks to underlay and the grip carpet offers, it is one of the safest forms of flooring as well as being available in a huge range of styles, thickness and design. Allowing you to use your stairs as a colour bridge between your downstairs décor and upstairs. Go for neutral colours to link the two, and a carpet that is hard wearing for practical purposes.
Carpets also offer more comfort than any other flooring type and can negate the noise of stamping feet coming down the stairs!
Vinyl flooring:

Vinyl flooring is a very worthwhile investment. Modern vinyl flooring products include the traditional sheet roll, as well as the more versatile Luxury Vinyl Planks or Luxury Vinyl Tile. This means there is now a lot of flexibility in the installation of vinyl flooring – and that includes the use of it on stairs.
With stairs being an often high-traffic area, it is important that comfort is prioritised. Despite being not quite as soft as carpet, vinyl still offers a significant amount of comfort underfoot, with some styles having a built-in underlay for extra cushioning, which also has the advantage of noise reduction.


In terms of durability, vinyl flooring, either in sheet form or LVT, has a layered structure, allowing it to withstand a good degree of general wear and tear, ideal for staircases.
It's also well known for its variety in colour and pattern ranges, so you can get creative with your stairs and turn it into a design feature of its own!
Landing
Your landing is a key area of your home and should be given the attention it deserves. As it links to various rooms, all with their own unique style and decoration, as well as your staircase, it can often be difficult to find a flooring that works. So, what are your options?
Wood flooring:

Thanks to its natural aesthetic and ageless appeal, both solid wood and engineered wood flooring can work well from a design perspective for your landing. Available in a variety of finishes and colours, lighter greys and neutral oaks can help transition your landing into your other upstairs rooms seamlessly. Engineered wood offers slightly more warmth and comfort than solid wood and we would recommend your landing flooring in the same style as your stairs, however, wood flooring does provide an overall, beautiful aesthetic.
Carpet:

From a comfort and noise reduction perspective, carpet is an ideal choice for an upstairs landing area. It gives a warmth underfoot that cannot be replicated. Choose lighter tones to give the illusion of a bright, airy space and a high pile for softness, especially if you have children.
EvoCore:

Traditionally, laminate flooring was thought of as a cheap alternative to wood flooring and although it has still kept its cost-effectiveness, the advances in laminate manufacture have led to some truly remarkable styles and designs. EvoCore are leaders in creating flooring that is durable, comfortable and a dream for designers.
It is also highly waterproof, which is ideal for landings that link to bathrooms and is easily installed. It has anti-slip technology so if you are worried about children falling down the stairs from the landing, the EvoCore range is a great option.
If you like the idea of wood flooring without the disadvantages of noise and comfort, we would highly recommend choosing EvoCore laminate for your landing floor.
To find out more about flooring styles and what would work best for you in your home, contact Flooring Superstore today on 03308 182 500.