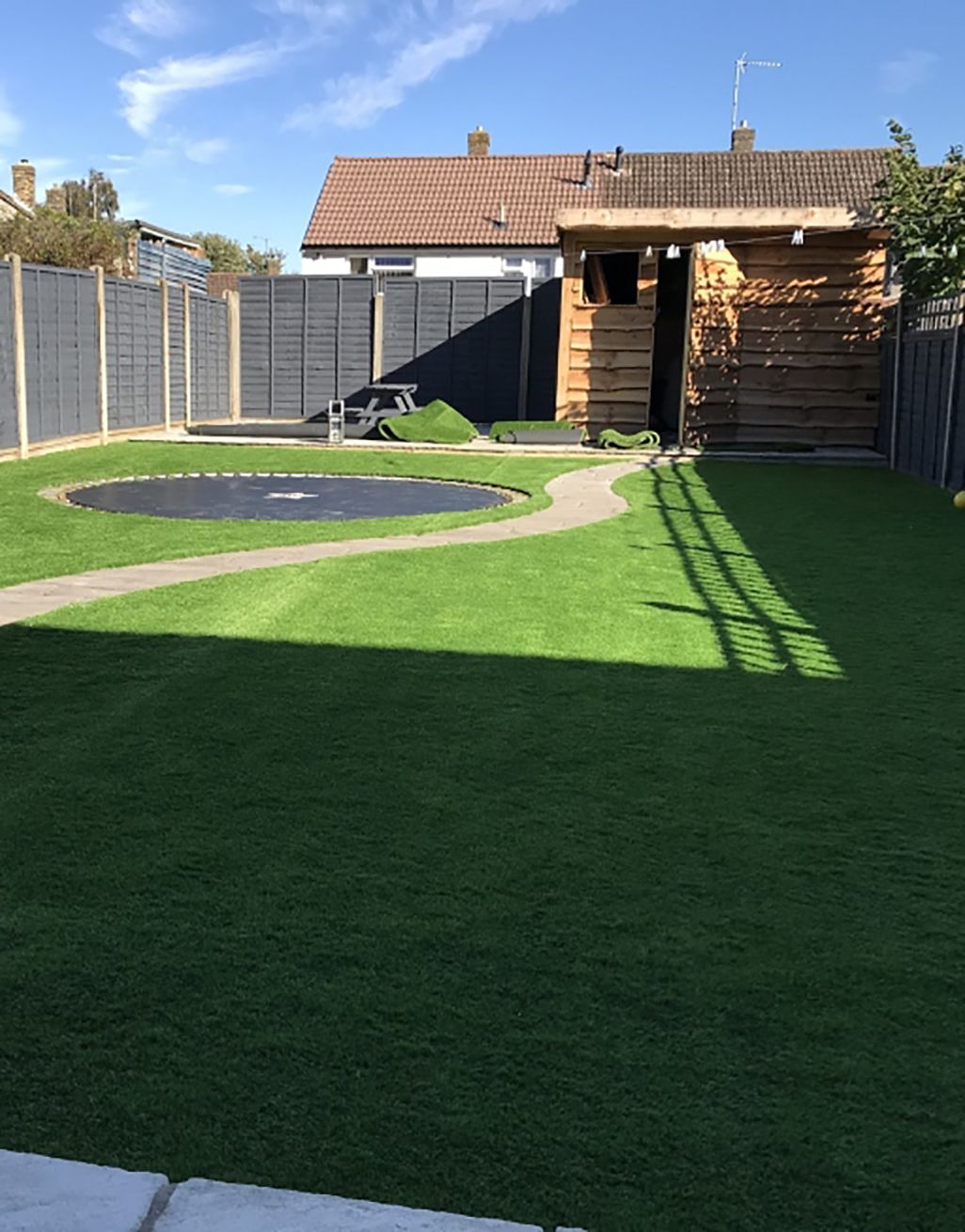 Finance Available on Orders over £500
+
If your order is over £500, you can spread the cost with one of our flexible payment options.
Find out more
Returns are free, just tell us within 100 days of receiving your order and we'll collect, refund or exchange.
For more details click here.
Rated 5 Stars on
+
Our service levels are second to none and we are rated excellent across many review sites, including Trustpilot.
Click here to read real customer reviews!
Description
Lucerne is both really dense and really soft, making it a great choice if you've got small children who enjoy playing in the grass. It's diamond shaped yarn gives it that fresh cut look all year round. With a five star softness rating and a four star wear rating, this grass will stand the test of time, while staying silky soft. Lucerne comes in a luscious rich green that will look fresh for every occasion. Consisting of four blends of colour, it has a beautifully natural appearance. To see what all of our customers are raving about, take a look at our customer photos below.
Specifications
Thickness
Lucerne measures a fantastic 35mm in depth - a long, natural looking pile that has the appearance of real grass and a luxurious feel underfoot.
Elite UV Protection
All of the artificial grasses on our site have fantastic UV protection - they don't fade in sunlight and stay green all year round.
Total Grass Weight
Lucerne comes with a solidly constructed woven backing, adding plenty to the overall weight and quality of the artificial grass.
Pet Friendly
Our artificial lawns are ideal for all pets and can be easily cleaned using a garden hose, warm water and mild detergent, or even with a good rainfall.
Extended Warranty
This has a great 8 year warranty showing the huge confidence in the latest manufacturing techniques & quality materials used in production.
Quality Manufacturing
We work closely with the largest Grass Factories in the world to design and manufacture the best artificial grass available. We are constantly developing new yarns and technology to increase the realism, feel and resilience of the grass.
Yarn Material
Lucerne uses superior PE fibres, making the grass softer & more pleasant to the touch as well as being more resistant thanks to their flexibility.
Yarn Colours
Four blends of colour are used in Lucerne, making it a natural looking grass. This blend keeps Lucerne looking fantastic all year round.
Yarn Shape
Diamond shaped yarns give an all round combination of resilience and strength as well as giving a smart and uniformed 'fresh cut' look.
Durable Backing
The quality of the backing is extremely important as it will impact on the long-term appearance of your artificial grass.
Easy Installation
Our artificial grasses are simple to cut and install yourself, allowing you to save extra whilst still creating the perfect results!
No Muddy Footprints
Wave goodbye to muddy footprints spoiling your flooring, there's no mess to be had with artificial grass flooring.