How to Fit Wood Flooring
Welcome to our handy guide on how to fit wood flooring. As with all DIY projects, preparation is key to making your installation a success!
Here we outline the basics when preparing to install your new flooring. You can find step-by-step guides for both solid and engineered wood at the end of this page.
Room Suitability
Your wood floor can be laid in most internal rooms except those which are prone to excessive damp and wet areas e.g. bathrooms. In areas such as a conservatory or kitchen we advise you to use engineered wood.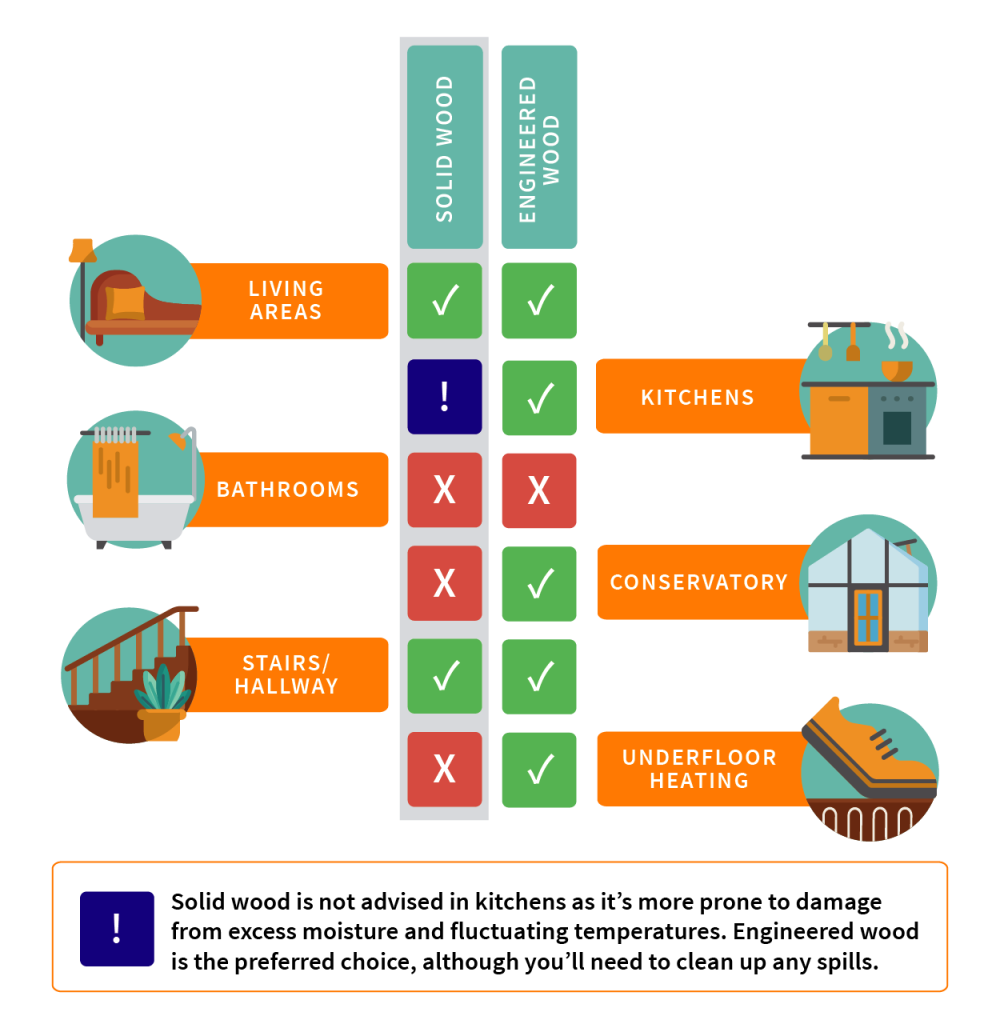 The two types of wood flooring - solid and engineered wood - have different room suitability.
Engineered wood comprises of many timber layers topped with a solid wood veneer. It's more suited to handling changing temperatures and moisture levels.
This means engineered wood is suitable for use with underfloor heating. It can also be fitted in areas likely to suffer spills such as kitchens. However, ensure any such spills are cleaned up as quickly as possible. Leaving water to find its way into your flooring may still cause damage to your wood floor.
Solid wood is made from one piece of wood, rather than layers. This means it's more likely to damage from moisture and changing room temperature, and cannot be used with underfloor heating.
Before Receiving Your Flooring
Due to wood being a natural material, it will react to any moisture around it, and as a result, will expand and contract. This occurs throughout the year due to the different weather conditions, and may cause slight gaps between the boards.
If the change in humidity is excessive, the boards may distort or lift. Check all possibilities of damp e.g. plumbing etc. and repair if leaking to stop this from occurring.
Take the following steps before you receive your wood flooring:
Complete all work involving water, e.g. laying concrete, dry wall and plasterwork. Dry well in advance. Cure concrete slabs for at least 60 days
Conventional heating systems should have been running for at least two weeks
Underfloor heating should have been running for at least three weeks
Acclimatising Your Floor
The rooms in your property have different temperatures and levels of humidity. During storage and transit, these levels are vastly different.
For this reason, we recommend you allow your flooring to acclimatise for at least 72 hours. By giving the wood enough time to adjust to its new environment, it prevents expanding and contracting once laid.
If you don't acclimatise your flooring, it may buckle or have gaps between the boards once it is laid.
Your room temperature should consistently be between 15ºc and 25ºc, with a relative humidity between 45% and 65%.
To help acclimatise the wood, we advise you to stack the wood in a lattice shape separated by blocks. This allows the air to circulate around it and let it adapt to the room's environment. Avoid placing the wood near a radiator or heat source.
Do not store your flooring in uncontrolled environments, such as garages, exterior patios or sheds.
Preparing your subfloor
The subfloor is the floor/base you are laying your wood flooring over. You should only install wood flooring over moisture-sealing floors e.g. hardwood, concrete or ceramic tile.
Before you fit wood flooring, your subfloor must be:
Clean: Remove any dirt or debris from your subfloor. Any nails or other objects sticking out also need removing. Before laying your wooden floor, sweep your subfloor again to ensure it's as clean as possible before the installation
Level: If your concrete subfloor isn't level, you will need to use a flexible levelling compound to remove any protrusions. Any bumps or dips can lead to an uneven floor once laid, and put disproportionate pressure on the wood laid over the uneven areas of your floor.
Dry: As we mentioned before, excess moisture leads to long-term damage to your wood flooring. Ensure the subfloor is completely dry, with a moisture level of 12% or below. Then, use a Damp Proof Membrane (DPM) over concrete subfloors to prevent moisture rising up into your flooring. Many underlays come with in-built DPM if you're fitting your wood as a floating floor. If you're gluing your flooring to the subfloor, use a liquid DPM and wait to dry before installation.
Stable: You must ensure any concrete subfloors are free of cracks or any other damage. For wooden subfloors, ensure the floorboards are stable, are secure with no loose boards, and don't suffer from any rotting or cracks. Any of these could lead to further damage after installation.
Suitable: We recommend you assess the suitability of the environment using high quality testing equipment. We advise against using existing or previously laid floors as a guide for the environments suitability for wood flooring. Failing to carry out the correct checks and taking precautionary action leads to a huge amount of wood flooring issues.
Just before laying your wood floor over a wooden subfloor a final moisture check should be carried out. The wood you are laying must be within +/- 2% of the surface onto which it is to be fitted.
Suspended ground floors must have sufficient cross ventilation to prevent condensation occurring on the underside of the flooring. It is advisable to lay a suitable membrane over the joists to help protect the undersides of the new boards from moisture.
Installation Methods
It is very important to understand what methods of laying a wood flooring are suitable for your subfloor and the type of wood you are installing. The flow chart below lists the available options for a range of situations. If yours is not listed, or if you have any questions, please contact our sales team on 03308 182 500 or get in touch via our contact page who will be more than happy to help you.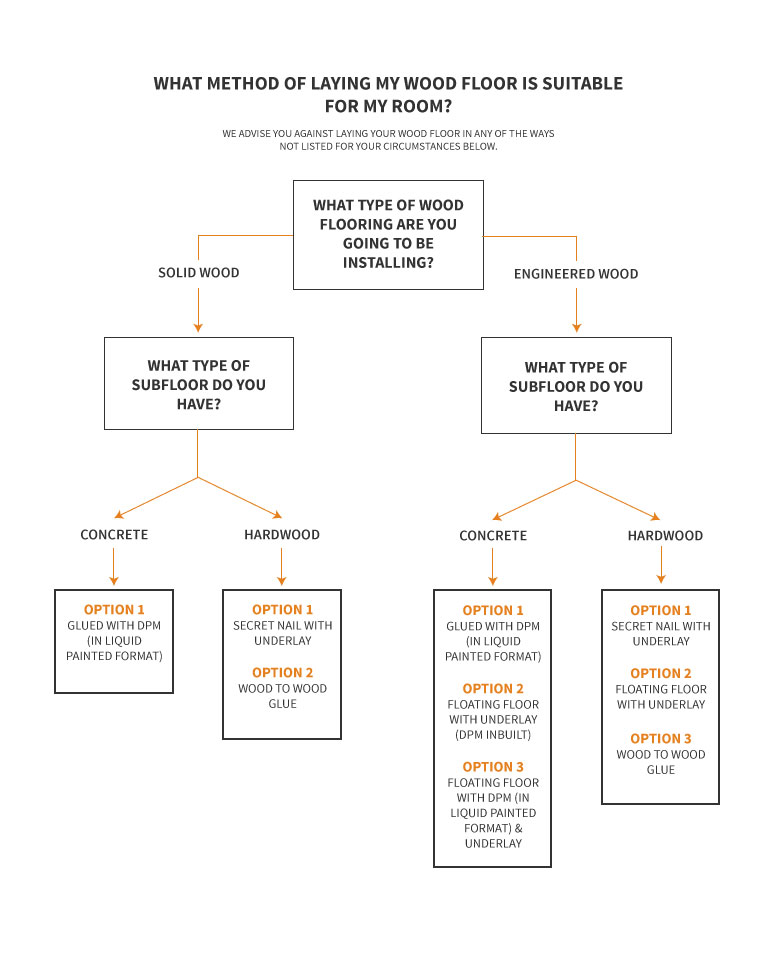 Solid Wood Flooring
Concrete subfloor: Glue down with liquid DPM
Wooden subfloor: Secret nail with underlay or gluedown
Engineered Wood Flooring
Concrete subfloor: Glue down with liquid DPM or floating floor with underlay (in-built DPM or liquid DPM)
Wooden subfloor: Secret nail with underlay or floating floor with underlay or gluedown
Top Tips
We recommend that the boards should be laid lengthways towards the main incoming light source and, where possible down the length of the room
If laying over a hardwood subfloor we advise the floor to be laid in the opposite direction (90 degrees) to the subfloor boards for extra stability
Do a practice lay before fixing your flooring in place to ensure you have enough flooring and you're happy with how the floor looks. This is also helpful if you there is significant colour variation in the boards of your chosen flooring
Use any boards that are prominently different as cuts, or install in less obvious areas
Check your flooring and underlay fit underneath doors. If not, you'll need to remove the door and cut the bottom to make room for your flooring
Install skirting boards after laying wood flooring to hide expansion gaps
Safety Advice
Power tools can be dangerous. Operate in strict accordance to manufacturer's operating instructions and safety precautions
Unsafe and improper use can cause serious injuries
Avoid inhalation and exposure to wood dust by wearing personal protective equipment (PPE)
Wear appropriate PPE which include NIOSH or OSHA approved dust masks, safety goggles and work gloves
Not following manufacturer recommendations can lead to installation failure or product damage. This will void your warranty
Please Note:
This guide outlines the steps your should take before receiving and installing your wood flooring. For more detailed information on how fit solid or engineered wood flooring, please refer to our guides using the links above.
This guide is intended as a guide only and is not aimed to replace a qualified fitter. No liability can be accepted by the company once the wood has been installed. It is the responsibility of the owner/installer, whether professional or not to determine that the internal conditions are suitable for the installation of their flooring and that it is fitted correctly. Always read the manufacturer's guidelines before you fit your flooring.