8mm Trade Select
Latte Oak
We're Restocking Our Samples!
We're sorry but samples of 8mm Trade Select - Latte Oak Laminate Flooring are currently unavailable!
Special Price
£19.89
Regular Price
£29.83
Finance Available on Orders over £500
+
If your order is over £500, you can spread the cost with one of our flexible payment options.
Find out more
Returns are free, just tell us within 100 days of receiving your order and we'll collect, refund or exchange.
For more details click here.
Rated 5 Stars on
+
Our service levels are second to none and we are rated excellent across many review sites, including Trustpilot.
Click here to read real customer reviews!
Description
Are you looking for flooring that is quick and easy to install? Look no further! Our 8mm Trade Select Latte Oak is a beautiful yet simply superb flooring choice, that will give your rooms that alluring look. The intircate shades of chestnut and fawn, with warm undertones leaves our Trade Select Latte Oak in a class by itself.
Our Trade Select Latte Oak is a captivating laminate, which is suitable for many rooms around the home, Not only that we offer a lifetime warranty so you can have that piece of mind. Don't forget to head over to our accessories page to find those finishing touches.
To complete your purchase and ensure the perfect feel underfoot, We recommend using a 1-3mm underlay. Using this underlay will provide your amazing new laminate flooring with protection from your subfloor and remove any minor deviations it has, whilst also delivering excellent acoustical performance. Head over to our Underlay page found in our Accessories menu to find the perfect one for you!
Specifications

8mm Thickness
8mm Trade Select - Latte Oak Laminate Flooring boards are 8mm thick.

1.99m² Coverage
Each pack of 8mm Trade Select - Latte Oak Laminate Flooring will cover 1.99m².
1291mm Board Length
Each board in every pack of 8mm Trade Select - Latte Oak Laminate Flooring is 1291mm long.

193mm Board Length
Each board in every pack of 8mm Trade Select - Latte Oak Laminate Flooring is 193mm long.

Eco Friendly
All our laminate floors are environmentally friendly as standard, with wood originating from sustainable forests.

Antibacterial Technology
This laminate has been treated with an antibacterial coating.

20 Year Residential Warranty
This product comes with a great 20 year residential wear warranty.
5 Year Commercial Warranty
This product comes with a 5 year commercial wear warranty
Made in Germany
This product is manufactured in Germany by state-of-the-art eco-friendly production systems, and with simple installation in mind.
Residential Warranty
20 years
Commercial Warranty
5 years
It is important to understand how to measure your floor correctly to avoid big expenses and to ensure you order the correct amount.
Not sure how to do this? We have easy to follow, step by step walkthrough videos and a text guide which will help you accurately estimate the amount of flooring you will need to buy for your rooms without the need to hire a fitter - saving you time and money!
View our walkthrough videos and measuring guide here!
Got more questions? Simply contact us and our well trained sales team will offer extra advice.
If you need help finding a fitter, we can provide you with contact details for a fitter in your area - simply click the link below to use our new find-a-fitter feature!
Find a Fitter
Colour Complimentary Touches
Finish your 8mm Trade Select flooring with our room edging and joining accessories.
Use me between flooring and walls
Use me between flooring and doors/windows
Available in 0.9m (2.9ft) lengths
£11.99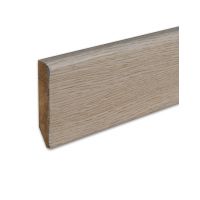 Use me against walls to cover expansions gaps
Available in either 4" Pencil or 5" Torus
Each length measures 2m (6.5ft)
£24.99